Amenities and Specialty Products

Seasons Spa Boutique truly is a one-of-a-kind experience. I have created a private warm, welcoming atmosphere for you to sit, relax and rejuvenate your spirit. After changing into a robe and slippers, sit by the fireplace and treat yourself to a cup of coffee/tea or glass of wine.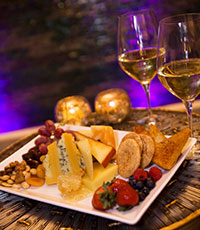 After your services, rehydrate with refreshing water or juice and help yourself to a few delicacies
from the cheese tray, accented with "seasonal" jams.
Remember, there's no need to rush back to reality. Relax and celebrate a new you!
During your spa experience, the following specialty products are used during your services and available when relaxing in the fireplace lounge: Epicuren Discovery skincare, FACE atelier makeup, LYCON wax, and Christina Maser pantry items and body care.....
These products are available in the spa boutique, so you may enjoy them at home!