Immerse your senses in peace and tranquility as your stress melts away...
Seasons A La Minute Massage
This "dollar a minute" customized massage, of your choice, can be added to any service or on its own. This is perfect if you have limited time but could use a little pampering. It is also ideal if you would like to extend your massage and spend an extra few minutes on a particular area.
No-Stress Express
This mini-massage will help relieve upper body tension so you can feel relaxed and rejuvenated.
30 minutes - $50
Swedish Massage
Designed to be the ultimate in relaxation - light to moderate pressure. This classic massage utilizes long, kneading strokes to improve circulation and creates a total sense of well-being and balance.
50 minutes - $65
80 minutes - $90
Deep Tissue Massage
Firm and more direct pressure will help to relieve back and body stress. After a thorough consultation to discuss problem areas, your therapist will create a detailed massage to work on those specific muscle groups that need special attention.
50 minutes - $80
80 minutes - $110
Foot Reflexology
This blissful treatment, for one of the most neglected areas of the body, starts with a Peppermint Glycolic Exfoliating Lotion applied to each foot and wrapped in steamed towels. It is designed to ease tension and create balance as ancient healing techniques are applied to stimulate the reflexes and use the meridians to assist the healing process and to enable personal growth toward wholeness.
45 minutes - $60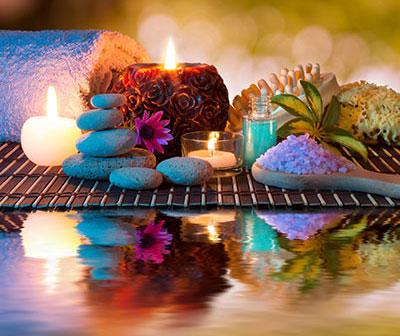 Hot Stone Massage
For centuries, heated stones have been used to soothe the soul and alleviate pain. Excellent for stress relief... This treatment combines the warmth of hot stones, the therapist's hands and aromatic oils to soothe and renew. The experience will leave you feeling tranquil while clearing and restoring balance to your body. 80 minutes - $120
Pregnancy Massage
Reduce stress and promote a sense of well-being with this massage specifically designed for the mom-to-be. A variety of massage techniques will be used to increase circulation, relieve muscle tension and reduce stress. Pillows are strategically placed to assist in comfort for massage.
50 minutes - $75
Pregnant women with the following conditions should speak with a health care provider prior to receiving a massage:
High risk pregnancy

Pregnancy induced hypertension (PIH)

Preeclampsia

Previous pre-term labor

Experiencing severe swelling, high blood pressure, or sudden severe headaches

Recently gave birth
The Ultimate Back Therapy
All of the benefits of a facial, only for your back! This treatment begins with a gentle cleansing and exfoliation with steam therapy to open your pores. A soothing and hydrating mask or a clarifying and polishing mask is applied and removed with steamed towels. Finished with a refreshing toner and warm moisturizer massaged into your skin. Total and Complete Indulgence!
50 minutes - $80
Special Note:
Aromatherapy is available in French Lavender, Orange Blossom, Papaya Pineapple, Moroccan Rosemary and Lemon Grass, and may be added to any massage for an additional $5
Relief Arnica Cream may be used to soothe sore muscles and target areas of inflammation for an additional $5
Epicuren Discovery - 50/50 Massage Cream is used with each massage. This blend of massage oil in a creamy lotion is the ultimate luxurious massage medium for therapeutic use. It includes Macadamia Nut Oil, Kukui Nut Oil, and Shea Butter. Please let the technician know if you have a nut allergy. An alternative Pure-ssage massage oil and cream are available: unscented, nut-free and paraben free.