Immerse your senses in peace and tranquility as your dead skin and stress melts away with these amazing spa treatments that deliver instant results!
HIMALAYAN SUPERFRUIT FACIAL
An exotic cocktail of Goji, Pomegranate, Acai, and Bilberry create the perfect solution for symptoms of acne, large pore size, hyperpigmentation, and fine lines. A refreshing enzymatic fruit puree dissolves lifeless cells while their seeds gently buff them away. These deliciously aromatic superfruits are packed full of vitamin C, minerals, proteins, and agedefying antioxidants to leave the skin looking smooth and vibrant.- $95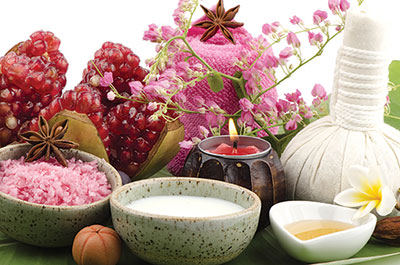 HIMALAYAN SUPERFRUIT BODY PEEL
The Himalayan Superfruit Body Peel delivers age-reversing antioxidants from Pomegranate, Goji, and Bilberry while their naturally exfoliating enzymes remove impurities. An ultra-buffing mandarin orange scrub is then applied to further refine and perfect the complexion. While wrapped in a warm cocoon, these multi-tasking superfruits work their rejuvenating magic as you enjoy a mini facial and scalp massage. This super peel finishes with a nutrient-rich skin hydrator to leave you feeling smoother than ever! - $105
Combine the Himalayan Superfruit Facial and Body Peel for only $180.
*Must be booked same day to receive this special offer. $20 Discount
Four Seasons (Signature Package)
This complete "head to toe" package includes the most requested spa services that will attribute to a total sense of well-being. Seasonal healing is one of the best ways to remind ourselves that it is time to evaluate our health. This Signature Package is perfect any time of the year!
120 minutes - $210.00
*Must be booked on same day to receive this special offer - $20 Discount
Vitamin C Eye Brightener

Seasons "Signature" Facial

Brazilian Propolis Body Wrap

Warm-Coconut Massage
Indulge yourself with pure, innovative skincare using the most luxurious, natural ingredients available.